Home and Office Automation
We can design a system to easily meet the today's energy saving requirements and be totally upgradable in the future once you have the initial wiring in place.
What is home automation?
Home automation is the control of lighting and power through an electronic controlled relay system such as Clipsal C-Bus.  This allows for any combination of switching for single or multiple lighting and dimming from anywhere in the house.  Changes can be made by simply reprogramming it into the system via a computer without installing additional cabling.
All programming for home automation is done in-house by one of our technicians.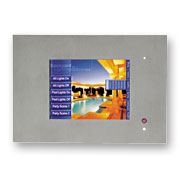 Imagine coming home from a hard day's work at the office, press a single button on your remote control, open your electric gate or garage door and at the same time switching on some lights if it's night time, disabling your alarm system and even unlocking your front door.
Some of the additional features home automation has to offer are:
Use of good night switch where the whole house can be turned off by one switch next to your bed

Control over power circuits which can be turned off to save on power when not in use

Control the operation of electric blinds and louvers

Electronic touch screens

A wide range of attractive switches

Access to your home's electrical and security system from any computer, iPad or iPhone

Scheduling the automatic operation of your lights and power
We recommend and use 10 watt dimmable LED down lights that will give you light equivalent to a 50 watt low voltage lamp these are fully compatible with Clipsal C-Bus and meets the Basix requirements.